Manufacturer of Motion Rides
Motion Ride:- After a long learning & research of simulation, Our Engineers able to Manufacture the "First Digital International Standard Simulation System" in Pakistan by the name of "Motion Ride" and Alhamdulillah We are the Pioneer Manufacturers of Digital Motion Ride System in Pakistan. Motion Ride is based on Digital System which is tend to have Long Operating Life and require very Little Maintenance, Environmental Friendly System, with no Pollution, Low Electricity Cost and the best thing that due to this Local Manufacture Product-all the Backup Services and Spares are Easily Available and nothing to worried about. Above all ! We are producing the Quality and Durability on International Standards. Motion Ride is giving Lots of Motion Ride Films in Various Motions like Fast, Medium and Slow Motions along with External effects which make "Motion Ride" Superior then the other Simulation System working in Pakistan. To Facilitate the Customers more and more, we have Designed Different Formats of Motion Ride in Sizes and Technologies Like ~04 Seaters, 08 Seaters, 12 Seaters, 16 Seaters and Large Motion Cinema Setups~ ~4D, 5D, 7D, 9D = XD FX Motion Ride Setups~ Motion Ride Simulation System aims to reproduce the physical sensation of movement you experience when you sit on the moving thrilling seat. Whether a racing car, an airplane, or a roller coaster, the simulator moves in all directions to make you feel as if you are actually a part of that movie. With the increasingly sophisticated graphics of computer HD CGI movies and their realistic Dolby Surround Sound, the addition of motion to the ride makes for an incredibly realistic and immersive experience for the Thrill Lovers. 3D Films in Outdoor Cinema and Shows in Buildings / Malls / Parks are a good way of entertainment for Amusement Lovers. In the Interactive Cinemation, "Motion Ride" Viewers enjoy stunning 3D Visuals combined with External Effects like * Water mists, * Rain, * Fog,* Wind on Your Face, * Leg Tickler, * Dolby Surround Sound, * Laser Lights, * Thunder, * Air Jets, * Back Vibrator, * Fire Effect, * Thigh Tickling and many more Effects. It's an immersive show as good as any Amusement Park Attraction. Everyone has a great time in "Motion Ride" while Watching Different Motion Ride Movies and you'll want to do it again and again, more and more!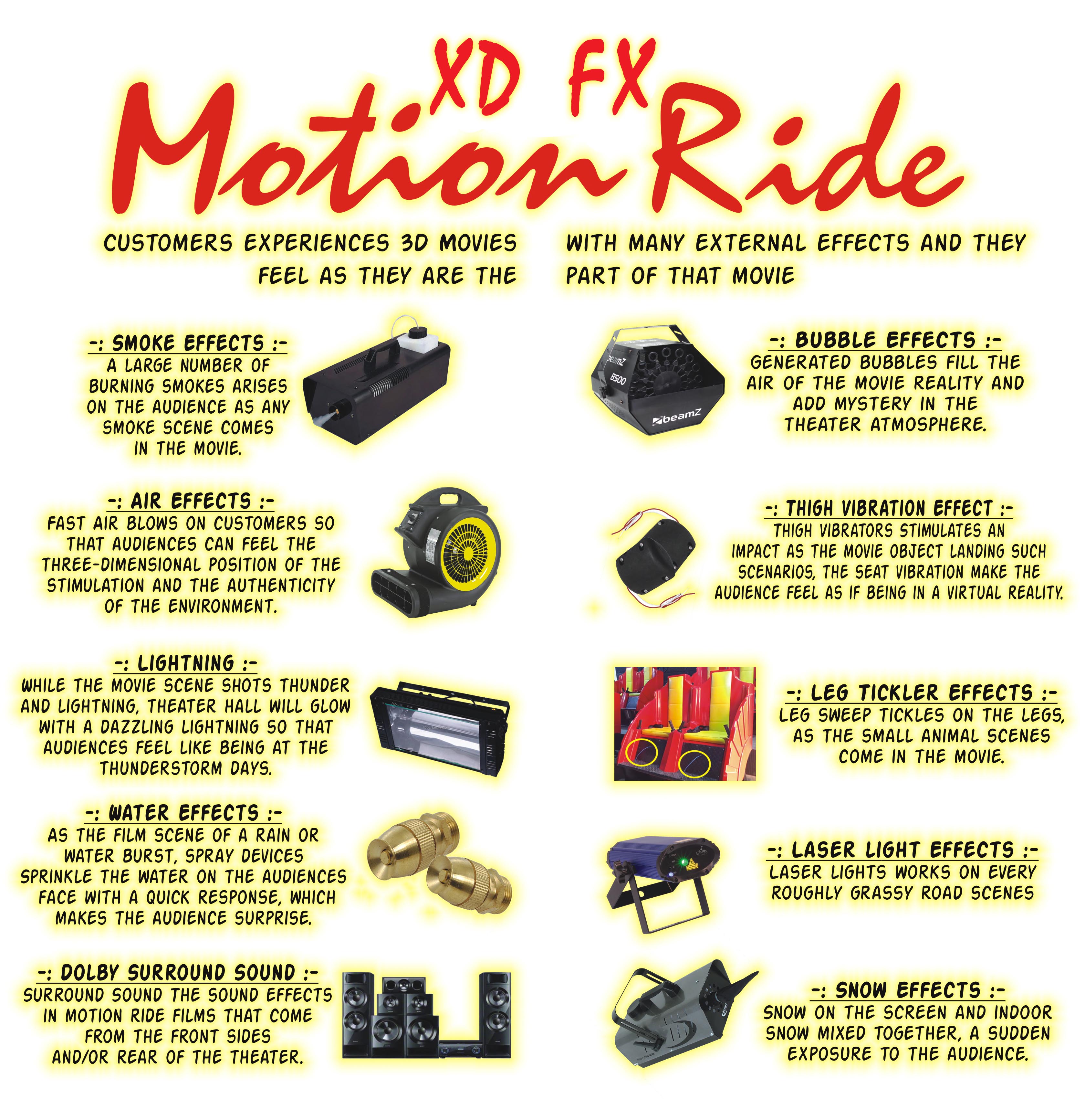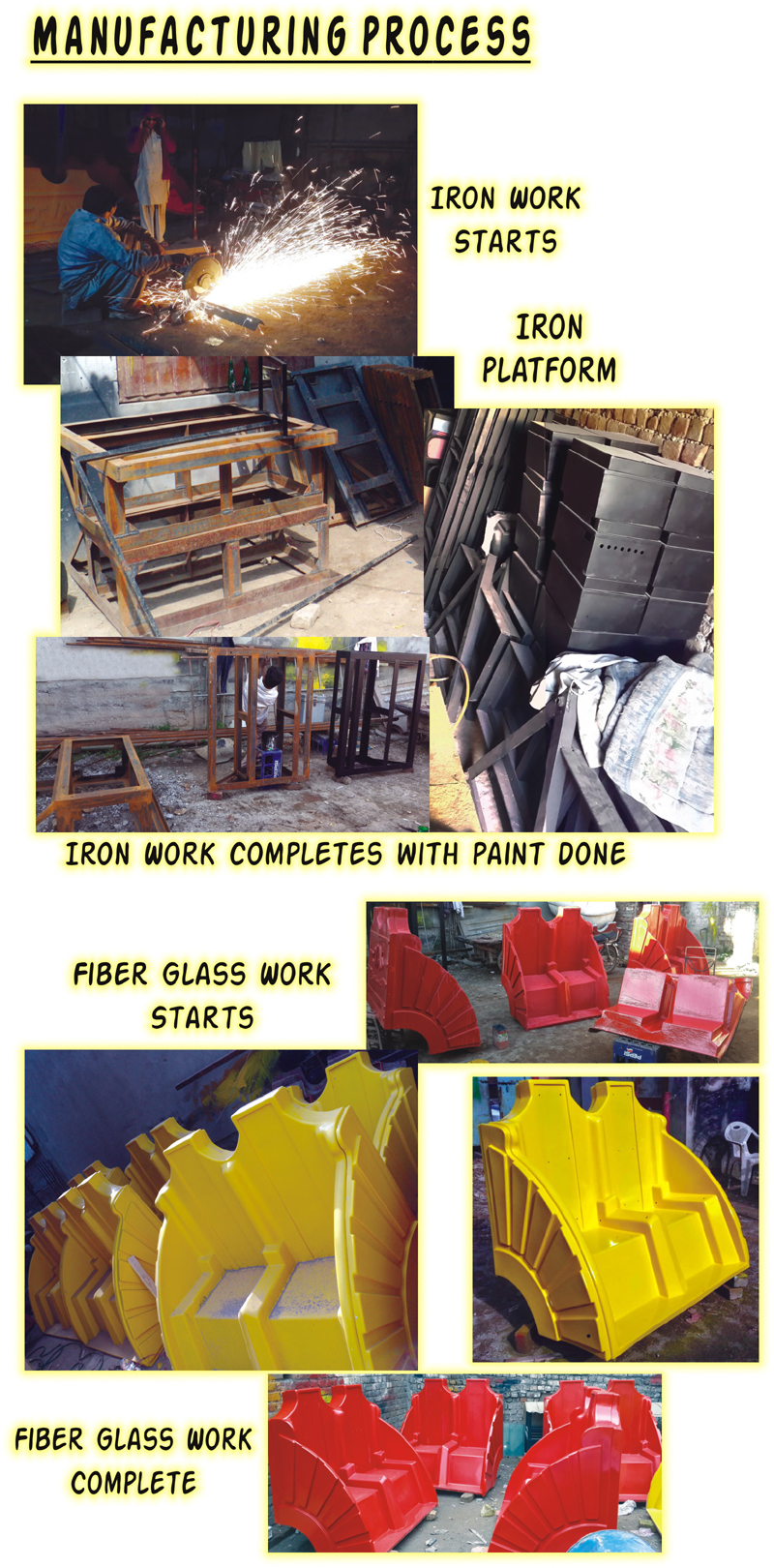 Phase One
After arranging all the raw material, Firstly we start the Iron Fabrication of Platforms, Cabinets, and other necessary parts. After Completing all the parts joined with weldings and bults.

Fiber Glass Fabrication Works startup with the Iron fabrication simultaneously by cleaning and polishing Dye/s for making fine and glass look parts of fiberglass which afterwords joined and painted.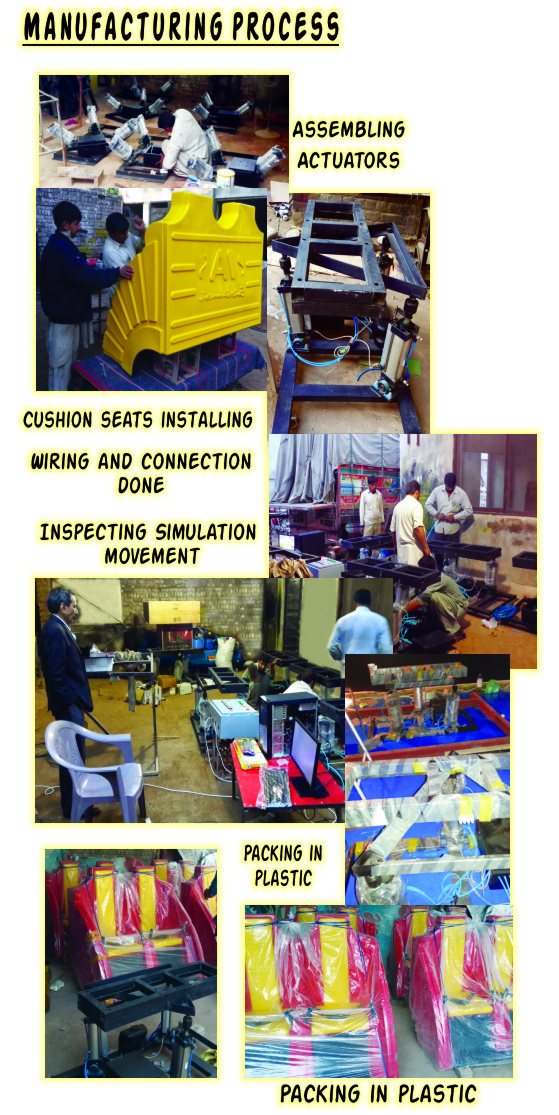 Phase Two
After Completing Iron and Fiber Glass Fabrication, We arranged all the necessary equipment for assembling. Fixing Actuators, Seat Belts, Wiring Connections and make the assembling complete which follows the testing and inspection the simulators before packing the goods. Standard Packaging work started for saving the parts of the ride.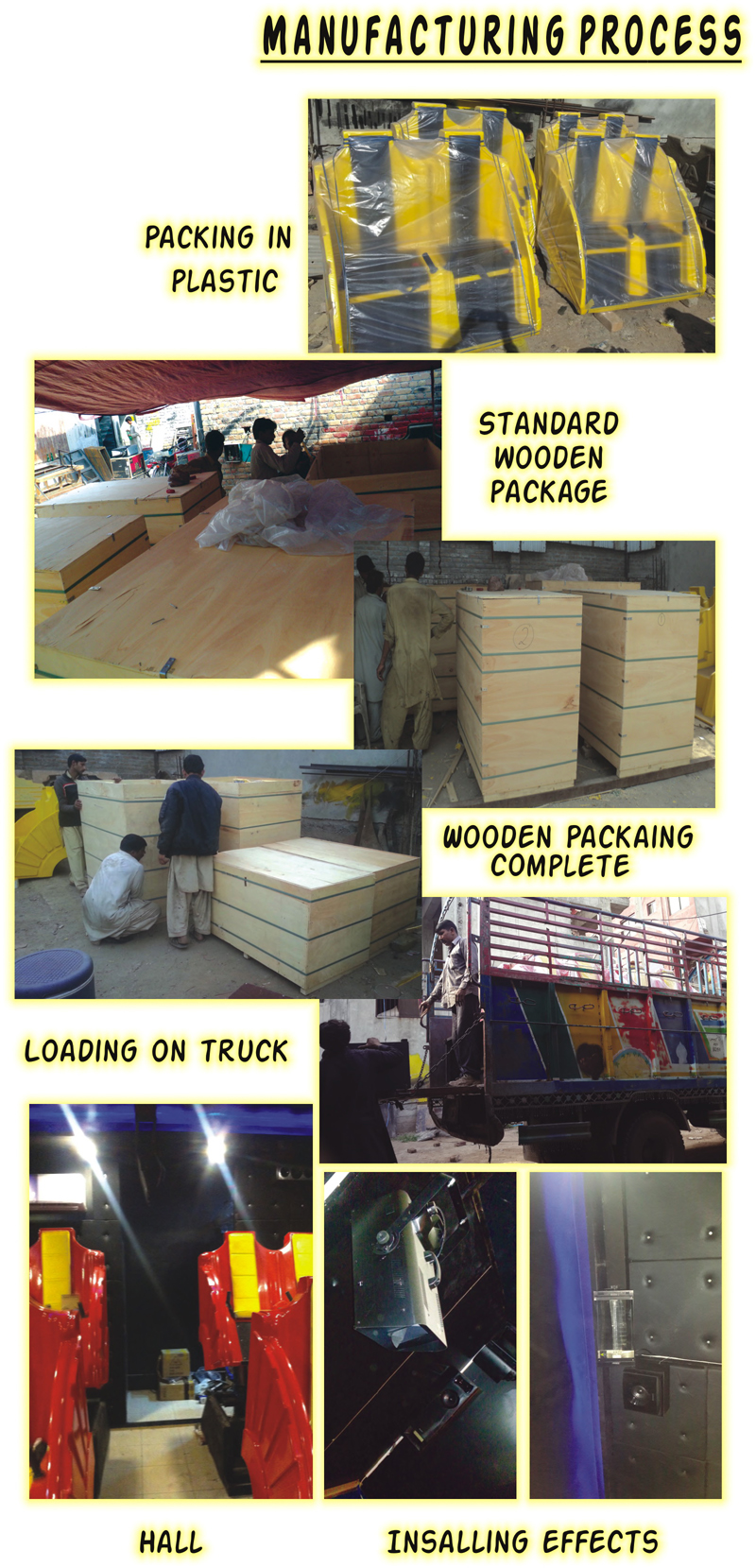 Phase Three
After completing the packaging, we load on the truck or container as per need to forward the goods to the destination where the Installers ready to unload the goods for installation. Normally Installation needs 3-4 days if the hall is ready completely.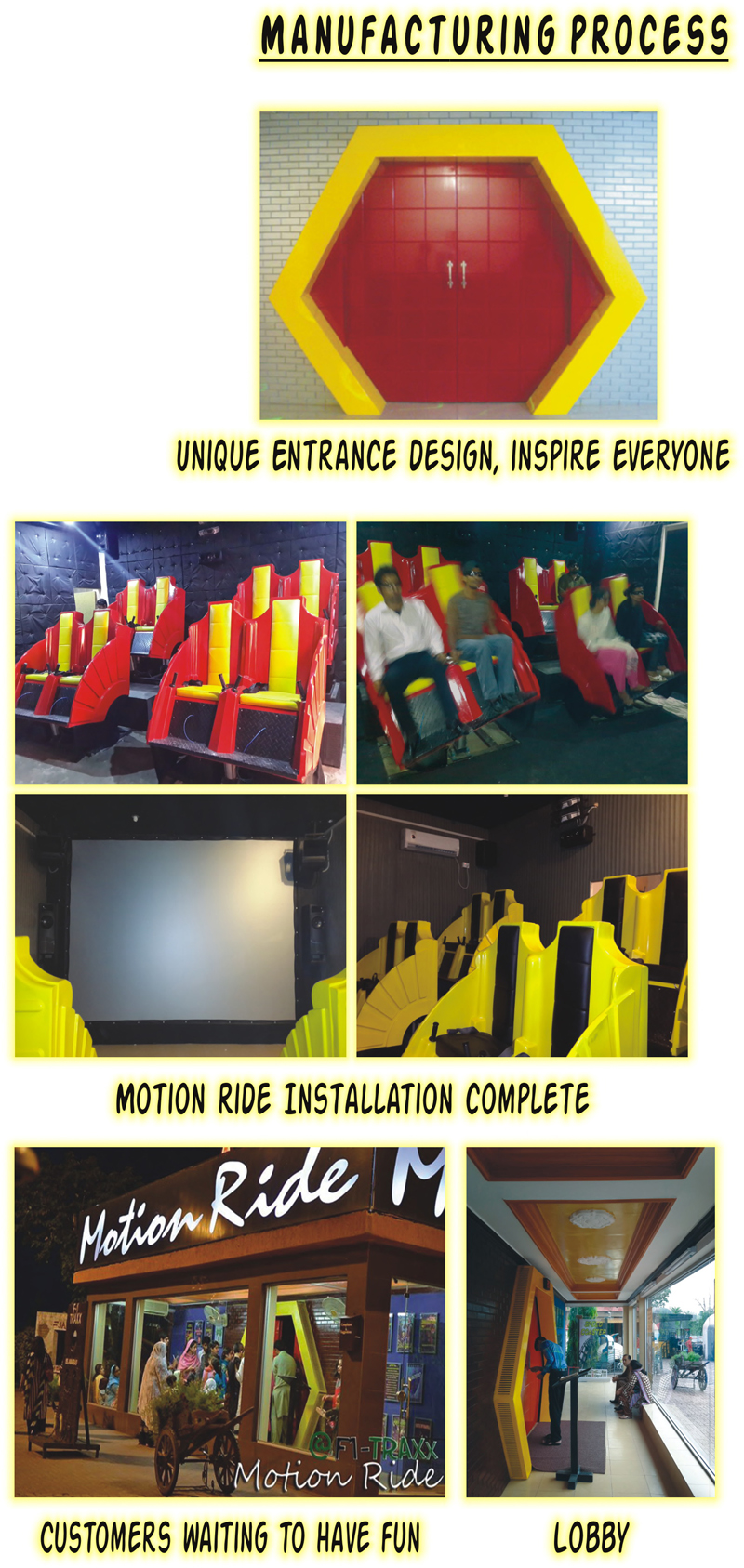 Phase Four
After Successfuly Installation of all Platforms, Fiber Glass Seats, Sound System, Projection Units, Screen, Main-Frame Computer, Sounds, Compressors, Effects etc etc, We test all the equipment again to test perfectection in simulation and all-3D-Effects. Detailed training is given to the operators in Oral and Written-form to make their best understandnings and to keeping the ride intact.